Light Dump Bodies
The line of light construction dump bodies provides contractors with quality, durability, and versatility. Several models are available to suit a variety of light-duty applications.
The "Eliminator" Dump Body, is the industry leader in Class 3-5. Featuring a sleek, streamlined style and designed for maximum durability, these units are available in 8′ to 12′ lengths with 12.5″, 17″, and 20″ side height options. Units come equipped with a sloped ¼ cab shield that has a slotted viewing window. All appearance corners have large radius bends and full height corner posts. The patented EZ-LATCH™ system is also included for easy tailgate operation and maximum safety.
The Eliminator-MD increases productivity by combining side and rear dump capabilities. Enjoy pinpoint load placement and greater functionality in tight job sites with the Eliminator-MD.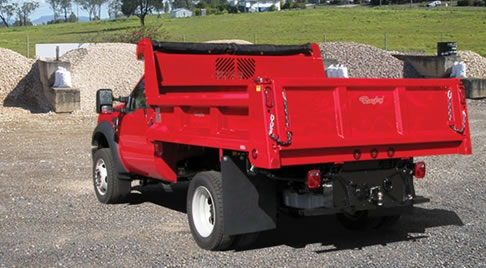 Aluminum Dump Bodies
The Aluminum Eliminator is not only attractive; it's tough and efficient! Aluminum bodies weigh up to 50% less than traditional steel and provide exceptional strength to weight ratio. This means increased payload, improved fuel efficiency, plus corrosion resistance, in addition to lower maintenance costs and lower tire and brake costs.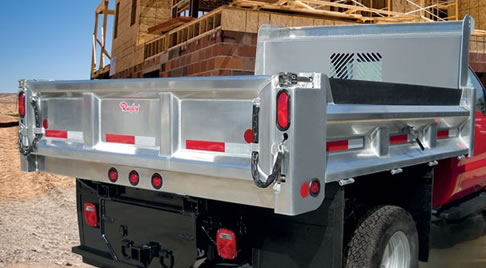 Stainless Steel Dump Bodies
Stainless steel dump bodies are corrosion resistant and more durable than high tensile steel. The polished bodies offer a modern, bright, easily maintained, and attractive appearance.